Orchestrating Elegance
by Matthew Innis
|
ORCHESTRATING ELEGANCE
ALMA-TADEMA AND DESIGN
JUNE 4–SEPTEMBER 4, 2017
As interest in the painter Sir Lawrence Alma-Tadema (1836–1912) surges, the Clark offers new insight into one of his most successful and distinctive artistic endeavors—the design of a music room in the Greco-Pompeian style for the New York mansion of financier, art collector, and philanthropist Henry Gurdon Marquand (1819–1902). Marquand was one of the founders of the Metropolitan Museum of Art.
Alma-Tadema designed the decoration of a Steinway grand piano (now in the Clark's collection) along with a matching suite of furniture and textiles for the room. The designs of the artist, the exquisite craftsmanship of the suite, and the taste and discrimination of the patron combined to create one of the most extraordinary rooms of the Gilded Age.
Orchestrating Elegance brings together twelve pieces of the original furniture suite, along with paintings, ceramics, textiles, and sculpture from the room, for the first time since Marquand's estate was auctioned in 1903. Additional material provides background and context to examine the design and execution of the music room project.
The exhibition examines the room and its objects from a number of perspectives, including how the commission unfolded and why Alma-Tadema was chosen to design the interior; the roles played by various artists involved in the project; the aesthetic impact of the finished furniture and room; and the history of the piano as a musical instrument.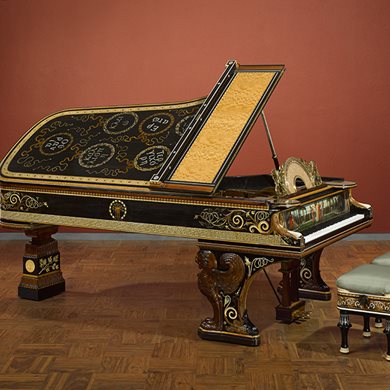 Generous contributors to Orchestrating Elegance: Alma-Tadema and Design include Sylvia and Leonard Marx and the National Endowment for the Arts, with additional support from the Coby Foundation, Ltd., Jeannene Booher, Carmela and Paul Haklisch, and Robert D. Kraus. The exhibition catalogue has been published with the generous support of the Gerry Charitable Trust, with additional support from Furthermore: a program of the J.M. Kaplan Fund. This exhibition is supported by an indemnity from the Federal Council on the Arts and the Humanities.