Frank E. Schoonover: American Visions
by Matthew Innis
|
Frank E. Schoonover's (1877-1972) legendary adventure paintings were inspired by the belief that artists should live what they paint—an adage often repeated by his noted teacher, illustrator Howard Pyle, and absorbed by his fellow student and friend, N.C. Wyeth. This exhibition will explore the breadth of this important Golden Age artist's career, beginning with Schoonover's art school experiences as a student in Pyle's classes at the newly founded Drexel Institute of Art, Science, and Industry in Philadelphia, beginning in 1896, and his time at the Chadds Ford Summer School in 1899, where he honed his skills among other gifted Pyle pupils. The artist's historical book illustrations and dramatically staged adventure paintings will illuminate the depth of his own wanderlust. Schoonover made daring excursions to Canada and Alaska—during one such trip, in 1903, he traveled 1,200 miles almost entirely by snowshoe, dogsled, and canoe.
He lived among the Blackfeet Indians of the northern plains, and with Alaskan Eskimos to experience, first-hand, the world portrayed in Jack London's To Build a Fire, a short story about a protagonist who ventures out in the sub-zero tundras of the Yukon Territory accompanied only by his dog. The artist's wilderness experiences would inspire his art throughout his career, making authentic portrayals of the far reaches of America possible.
The exhibition will feature Schoonover's paintings for such classic stories as Kidnapped, Robinson Crusoe, Swiss Family Robinson, and Ivanhoe, as well as illustrations for the novels of Zane Grey, which included Open Range, Avalanche, Rustlers of Silver Ridge, and Valley of Wild Horses, among others. During his long career, he illustrated more than two hundred books, and created memorable portrayals of Clarence Edward Mulford's Hopalong Cassidy to the delight of the character's many ardent fans. Schoonover's long teaching career will also be examined, as will his role in establishing the Delaware Art Museum and obtaining seminal Pyle works for its collection. Eighty original paintings, drawings, and studies will be on view, as will archival photographs and examples of the artist's daybooks and personal effects.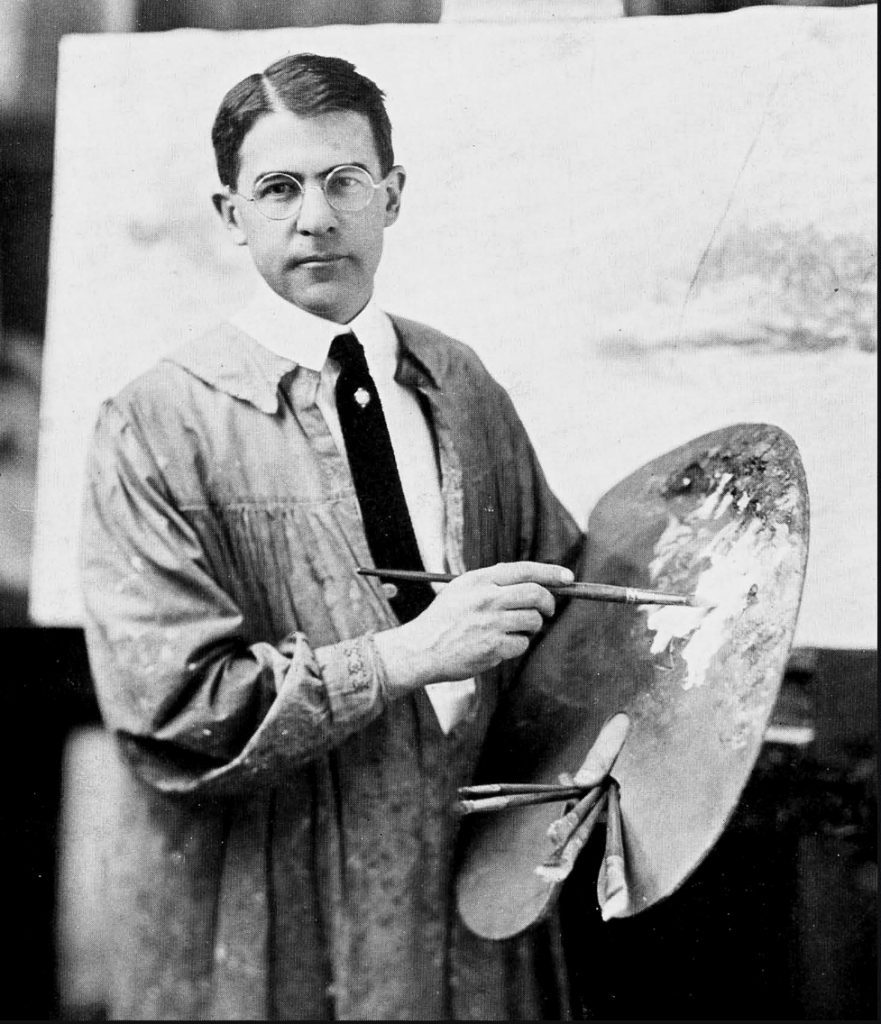 ABOUT THE ARTIST
Frank Earle Schoonover was born on August 19th, 1877 in Oxford, NJ, son of Colonel John Schoonover and Elizabeth LaBarre Schoonover. After graduating with honors from the Trenton Model School in 1896, he briefly considered the Presbyterian ministry. However, a Philadelphia Inquirer advertisement for illustration classes steered him to Drexel Institute, where he was accepted into Howard Pyle's class for aspiring illustrators. Fellow students included Stanley Arthurs, Jessie Wilcox Smith, Elizabeth Shippen Green, and Thornton Oakley. In both 1898 and '99, Pyle took note of Schoonover's incipient talents, offering him one of only ten scholarships at his Chadds Ford summer school. By early 1900 the uniquely trained and confident young artist had moved to Wilmington, continuing his studies with Pyle at the mentor's studios on Franklin Street, launching his career with a commission of four illustrations in the book, A Jersey Boy in the Revolution.