Mort Künstler: "The Godfather" of Pulp Fiction Illustrators
by Matthew Innis
|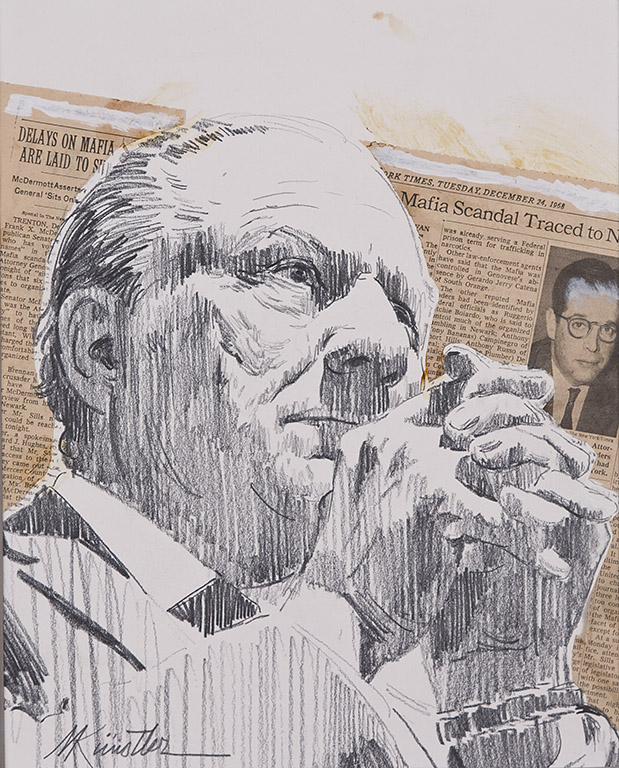 Long before blockbuster superhero movies, those looking for an adrenaline rush turned to adventure magazines featuring exciting stories and thrilling illustrations. As the go-to artist and illustrator, Mort Künstler's work graced hundreds of magazine covers, stories, and books, firmly establishing his prominence in the pulp fiction genre. For the first time, more than 80 of these remarkable original artworks – many of them never exhibited before – are shown together in The Heckscher Museum of Art's exhibition Mort Künstler: "The Godfather" of Pulp Fiction Illustrators. 
Originally featured in magazines such as Stag, Male, and For Men Only in the '50s, '60s, and '70s, the illustrations brought to life headlines that screamed adventure. The images of men in combat, women in distress, and nature threatening man immediately caught the reader's attention. "You try to pick a moment that will entice the reader and catch their attention and make them want to read the whole text," explains Künstler. "The whole goal is to make them stop and go, 'what's going on here?'"
Künstler was so good, that there were instances when his carefully detailed illustrations actually inspired a story, rather than the other way around. During his long career, Künstler illustrated stories for many authors, including Mario Puzo, author of The Godfather, who wrote in the same magazines under the pen name Mario Cleri. Künstler illustrated Puzo's The Godfather long before the movie franchise. His vision comes amazingly close to how the characters eventually appeared in the movies. These paintings will be on exhibit in Mort Künstler: "The Godfather" of Pulp Fiction Illustrators.
The Heckscher Museum is producing a catalogue to accompany Mort Künstler: "The Godfather" of Pulp Fiction Illustrators, and publication of a companion book on Mort's men's adventure art will be released during the exhibit. A traveling exhibition is being organized as well. Artist appearances and signings to be announced.
For more information, visit the The Heckscher Museum of Art website or Contact Us:  Kunstler Enterprises, Ltd., 800-850-1776, info@mortkunstler.com, www.mkunstler.com