Never Abandon Imagination: The Fantastical Art of Tony DiTerlizzi
by Matthew Innis
|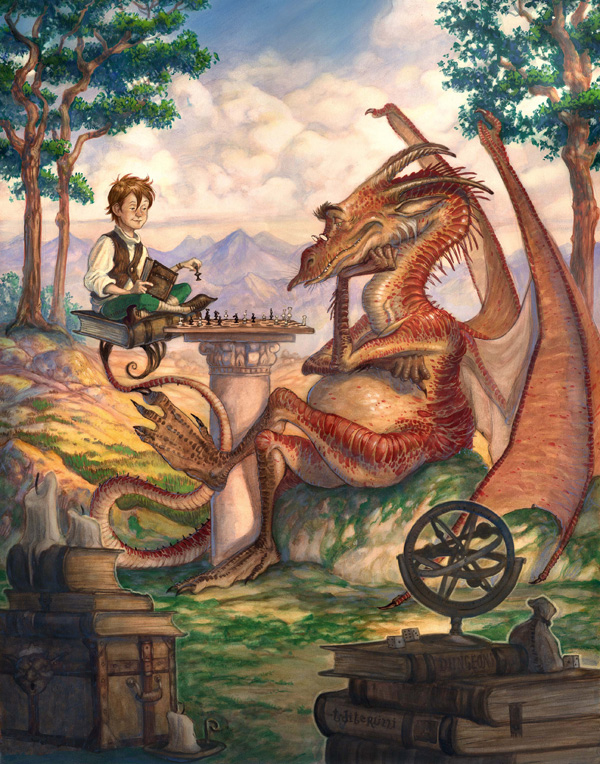 Never Abandon Imagination: The Fantastical Art of Tony DiTerlizzi, an exhibition of works by the #1 New York Times bestselling author/illustrator, will be on view at the Norman Rockwell Museum from November 11, 2017 through May 28, 2018.
Known for his multi-million bestselling book series The Spiderwick Chronicles, DiTerlizzi is celebrated the world over for his images of such fantasy creatures as fairies, trolls, sprites, and goblins.
Generously sponsored by Simon & Schuster, Disney Publishing Worldwide, and Gotham Group.
Media Sponsor: WGBY Public Television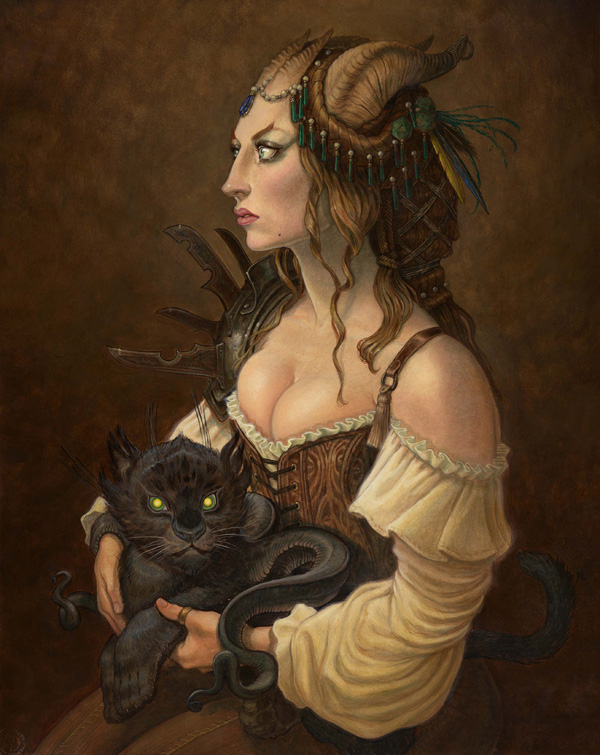 Never Abandon Imagination will showcase over 200 original paintings and drawings, starting from DiTerlizzi's work in tabletop games, such as Dungeons and Dragons and Magic: The Gathering, to his many imaginative children's books, in addition to early artwork from his childhood and college years. The exhibition will highlight the artist's influences and artistic process.
Just as his early work on Dungeons and Dragons and Magic: The Gathering is treasured by devoted fans of the gaming genre, DiTerlizzi's award-winning books—such as The Spiderwick Chronicles; Kenny and the Dragon; The Spider and the Fly; The Story of Diva and Flea, and The WondLa Trilogy—have inspired a new generation of young readers.
DiTerlizzi has influenced fans and fellow creators alike. "Tony's work has a distinct flair, a love for monsters if you will," notes filmmaker Guillermo del Toro. "His creatures have the charm of [Jim] Henson or [Arthur] Rackham but they carry with them hints of their own ecosystem. He stands alone as a creator of worlds and a weaver of tales."
With an artistic style influenced by legendary illustrators Norman Rockwell, Arthur Rackham, and Brian Froud, DiTerlizzi's exhibition will show how those visionaries shaped his own magical tales. The exhibit has been organized by the Norman Rockwell Museum's Jesse Kowalski, who adds that the Museum is "proud to present the work of this superb illustrator, who is keeping this cherished artistic tradition alive."
An exhibition opening for Never Abandon Imagination will be held at the Museum with a special appearance and book-signing by Tony DiTerlizzi. School vacation week and additional family programming will explore DiTerlizzi's use of imagination in narrative art.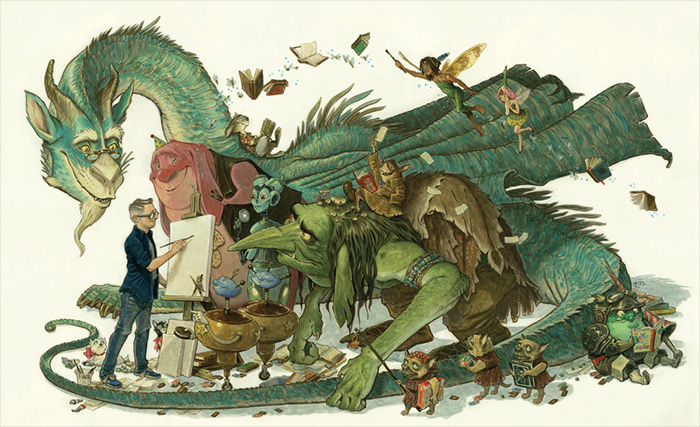 ABOUT THE ARTIST
New York Times bestselling author and illustrator Tony DiTerlizzi has been creating books for nearly two decades. From his fanciful picture books such as The Spider & The Fly (a Caldecott Honor book), to chapter books like Kenny and The Dragon and the WondLa trilogy, DiTerlizzi imbues his stories with rich imagination. With Holly Black, he created the middle-grade series, The Spiderwick Chronicles, which has sold millions of copies, been adapted into a successful feature film, and translated for more than 30 countries. Recently, he teamed up with Lucasfilm to retell the original Star Wars trilogy as a picture book and collaborated with Mo Willems for the bestselling chapter book The Story of Diva & Flea.
DiTerlizzi is also the author and illustrator of Jimmy Zangwow's Out-of-this-World Moon Pie Adventure, as well as the Zena Sutherland Award winning Ted. His brilliantly cinematic version of Mary Howitt's classic The Spider and The Fly earned the artist his second Zena Sutherland Award before receiving his Caldecott Honor in 2003. Mr. DiTerlizzi's art has graced the book covers of such well-known fantasy writers as J. R. R. Tolkien, Anne McCaffrey, and Jane Yolen. He made his illustration debut contributing to Wizard of the Coast's iconic games Dungeons and Dragons and Magic: The Gathering.
Believing in the healing power of stories, DiTerlizzi is a Global Ambassador for the Starlight Foundation and has held author events for children in hospitals all over the world. He serves as a member of the Board of Trustees for the Eric Carle Museum of Picture Book Art.
Learn more at: diterlizzi.com