Secrets Behind the Wall: The Don Trachte Replicas
by Matthew Innis
|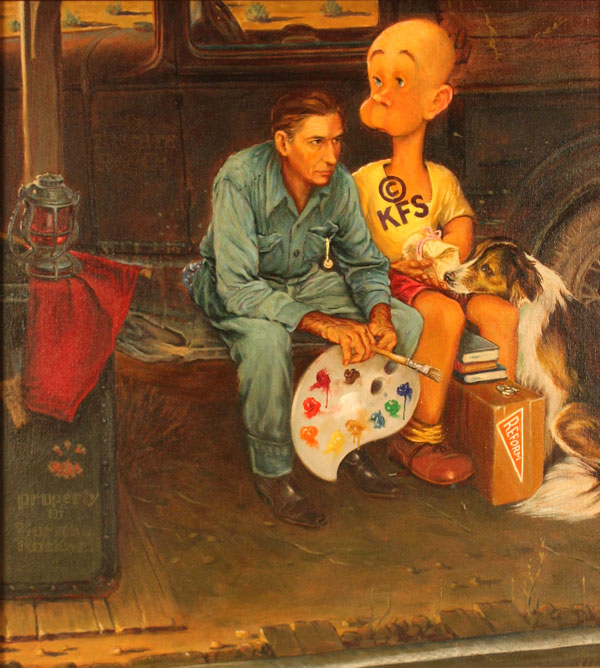 Secrets Behind the Wall:
The Don Trachte Replicas
May 27, 2016 – September 4, 2016
Don Trachte was born in Madison, Wisconsin, and began drawing cartoons at age 17 as the assistant to Carl Anderson, the creator of the "Henry" comic strip. Trachte took over the Sunday strips in 1946 before Anderson's death in 1948, and continued to draw "Henry" until 1993. In 1950, Trachte bought a house from illustrator Mead Schaeffer and moved to Arlington, VT, a thriving artist community. He soon became close friends with Norman Rockwell, Arlington's most notable artist resident, and eventually even modeled for his May 23, 1953 Saturday Evening Post cover, The Shiner.
In 1962, Trachte bought Norman Rockwell's 1954 Saturday Evening Post cover painting Breaking Home Ties for $900, and it quickly became his most prized possession. In 2002 he loaned Breaking Home Ties to an exhibition at the Norman Rockwell Museum in Stockbridge, Massachusetts. Experts were puzzled over discrepancies between the loaned painting and the printed Saturday Evening Post cover. Then, in 2005, a year after Don's death, the Trachte family made a surprising discovery. A false wall was exposed in Trachte's studio concealing Rockwell's original Breaking Home Tieswith seven other paintings by artists including Gene Pelham, Mead Schaeffer, and George Hughes.
Trachte and his wife Elizabeth divorced in 1973, and the divorce settlement transferred legal ownership of Trachte's eight paintings to their children. Trachte's sons believe he may have painted the nearly exact copies to prevent his estranged wife from ever obtaining the original artworks, which remained hidden for the next 32 years. In 2006, Breaking Home Ties sold for $15.4 million, setting the record price for a Rockwell painting at that time. The current record is over $46 million.
The NMAI is proud to display Trachte's replicas alongside many of the original paintings by beloved illustrators. The exhibition also features a selection of Trachte's Henry cartoons.