2017 The Art of the Portrait Conference – Day 1
by Matthew Innis
|
When Edward Jonas, Chairman of the Portrait Society of America, addressed the audience on the first day of the 2017 The Art of Portrait Conference as, "sisters and brothers in art," it was a very uplifting moment.  For the many new attendees, especially those firt-time visitors who had traveled from nearly every continent on the globe to be there for the weekend, this reminder of solidarity created a swell of palpable pride as it was acknowledged that whatever borders, languages, or politics may separate us superficially, in our love of art, we are of one people.  But though this was an important message and one that should be celebrated, when the rest of us who have been to many conferences heard "sisters and brothers in art," I believe we heard something that was a bit different.  Jonas, after all, had not said a "sisterhood and brotherhood of artists," but "sisters and brothers in art:"  to us, he was talking to siblings, to members of a family whose ties – in this case – might not be blood, but are perhaps of something stronger;  we choose to be together because we genuinely like each other.   What we heard Jonas saying was, "It's so nice to see the family together again," and in truth, though the demonstrations and presentations are informative and challenging, the products in the vendor's room are of high quality and deeply discounted, and we all love seeing the finalist's artworks in person, it is the bonds we have formed with each other that really bring us back year after year.
Let the family reunion begin.
Climbing the stage at 9:15 on Friday morning to give the first demonstration and lecture of the conference was Jeffrey Hein, a young artist from Utah who seemed to have arrived fully-formed when he burst onto the professional art scene some 15 years ago.  Though critically acclaimed from the beginning for his formal yet inventive portraits, Hein changed gears several years ago to focus on social commentaries and large-scale multi-figural allegorical works, as well as to open and nurture his own school of representational art in  Salt Lake City.  Since attending his conference just a few years ago, Hein has become a favorite presenter, as much because of his knowledge and ability as a teacher, as because of his great sense of humor (most of which is self-deprecating).
For 2017, Hein decided to speak on painting lifelike skin tones in a two-hour presentation called, "Mastering Color in Flesh."  During the presentation Hein described his procedure while simultaneously painting a sitter from life, and while the model was on her breaks, Hein offered a slide presentation which illustrated the points he was applying to the work at hand.
After Hein stepped down from the stage, the legendary Daniel Greene took to the stage for a session the artist called, "Ask Me Anything."  Greene, born in 1934, has taught for most of his professional life and has only recently retired from educating other artists, preferring to spend this current stage of his life concentrating on his own paintings.  He estimates that in his role as educator, he has taught over 10,000 students, not including those he reached with his books and videos.  After speaking for a while, the floor was opened to the audience who plied Greene with technical questions from concerns over lead white to advice on how to tighten sagging canvases.  Fellow-artist Wende Caporale, Greene's wife, acted as moderator.
When Daniel Greene's lecture finished, there was a brief break for lunch, but on a day as busy as this was, it wouldn't be surprising if many attendees lost track and missed their midday meals.  Immediately following Greene's lecture, some artists set up in the hallway to autograph books, while others donated their professional knowledge to offer critiques of attendees' portfolios.  And in the grand ballroom, the alumni members met for the annual photo.  Before we knew it (before this photographer knew it), it was 2pm and time for the Friday breakout sessions.
In the breakout sessions, six events occur simultaneously throughout the guest hotel, each event focussing on a separate topic.  Attendees must chose ahead of time which session they would like to be a part of, as some of these symposiums – such as the drawing workshops – have limited spaces.  The six two-hour forums on this day were:  1).  Painting Children with Michael Shane Neal;  2).  The Experienced Eye with Daniel Greene;  3).  Choosing the Path to Selling Your Art with Scott Jones, Bart Lindstrom, Beverly McNeil, and Mary Whyte;  4).  Doing Your Visual Homework with Anna Rose Bain, Jeff Hein, Edward Jonas, and Dawn Whitelaw;  5).  Improving Your Work Through a Critical Eye with Sam Adoquei, Scott Burdick, and Sadie Valeri;  and 6).  Drawing Workshop with Tony Pro and Kate Stone.
As the photographer for the The Art of the Portrait, I enjoy the great freedom of being able to visit every presentation put on during the weekend, but I also suffer under the responsibility that I MUST visit every presentation put on during the weekend.  What this means is I get to see everything that is going on, but I don't have the time to sit down and listen to many lectures in their entirety, and this can be quite frustrating.
During this particular breakout period, though I enjoyed watching and learning from the panels at all of the individual sessions, the presentation I most wished I could have sat in for the entire time was "Doing Your Visual Homework."  In large part this was because I sometimes feel that in my own art that I spend too much time prepping for some aspects and not enough for others, and I was interested to learn how theses professionals approached their own pieces.  I was also specifically interested in the maquette building that Jeffrey Hein did for his recent religious painting of "The Golden Gates of Jerusalem."  Several years ago Hein had told me about some of the preliminary work he had done for the painting, and I was as excited to see his models and sketches as I was to see the finished piece.
When the breakout sessions ended at 4:00pm, there was a brief break followed by a social hour from 4:30 until 5:30pm.  During this time, attendees were able to visit the room where all of the pieces of art in the International Portrait Competition were on display and meet the artists behind those works, or they could unwind with a drink in the large hallway outside the grand ballroom while they awaited the next event of the evening.
At 5:30pm promptly, the doors to the grand ballroom opened onto the 6×9 Limited Size, Unlimited Talent Mystery Art Sale, a favorite event to which many attendees and faculty too look forward to each year.  In the sale roughly 120 artworks of approximately 6×9 inches in size (some sculpture may have been slightly larger) were offered for sale by lottery at a fixed price of only $250.  The catch is that no one knows whose artwork they have purchased until it is removed from the wall, and the signature on the back of the work is revealed.  In the past, the clamoring over a favorite piece has sometimes gotten a bit out of hand, but as everyone has become more practiced at conducting and participating in the event over the years, it seems to just go smoother and smoother.  The mystery artists behind these works include faculty members, past medal winners, and other award recipients, and proceeds from the sales go for scholarships to allow some students who could not otherwise afford it to attend future conferences.
After the 6×9 Mystery Art Sale ended, attendees went off to find their dinners, either in the hotel's own restaurant, or in one of the many restaurants in the nearby area.  The day was not over yet, however, and after dinner, attendees were invited to return to see a Master Drawing session which ran from 8:00pm until 10:00pm.  Juliette Aristides, Casey Childs, Susan Lyon, and Ricky Mujica each set themselves up with a model in separate conferences rooms and invited guests to stop in to watch them at work, and to ask questions about their procedures.  This event has only recently returned to the conference itinerary, and proves just how jam-packed the daily schedule at the conference is, with planned events running for thirteen hours straight on the first full day of the convention alone.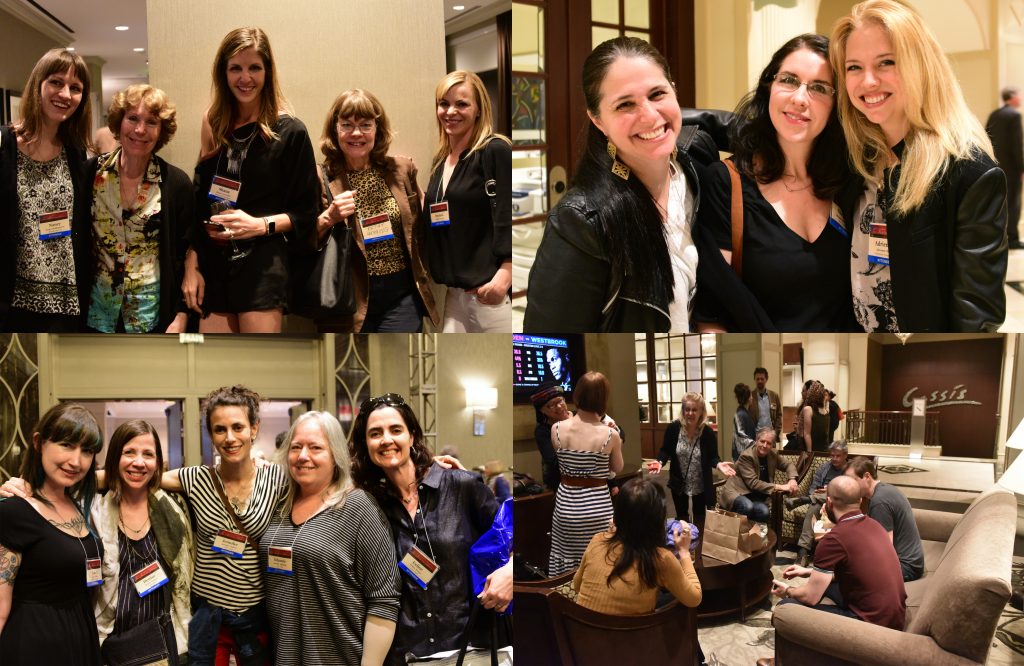 When the "Master Drawing" session ended at 10:00pm, it was time for this photographer to turn in, but for many others, there was still time to hang out with friends in the hotel lobby for a few hours.