In the MEAMtime . . .
by Matthew Innis
|
There are so many exhibitions I wish I could attend – both here and abroad – but life being what it is, I find myself quite fortunate if I can make it to just a small fraction of what is on show.  One exhibit I wish I could attend was the Art Renewal Center's 12th Annual International Salon Exhibition being held at the Museo Europeo de Arte Moderno (MEAM) in Barcelona, Spain.  I was lucky to have visited the travelling exhibit when it was at the Salmagundi Club in New York City, but to have the chance to see it in Barcelona, at a contemporary museum founded to promote the figure in art, would have been incredible.  Unfortunately, such a visit is not to be; but thankfully, I have friends who have attended the exhibit who were able to share their experience with me.
Nicole Moné, a talented artist and long-time friend, just returned from the MEAM where she was in attendance for both the ARC Salon and Figurativas 2017, two juried exhibits dedicated to representational art.  Her own painting, Blowing Smoke – a portrait of her mentor, the late Aaron Shikler – won The Collection Magazine Award at the most recent ARC Salon and was on view in Spain.  Below is a quick synopsis of her visit to the MEAM.  All photographs unless otherwise noted are courtesy of Nicole.
12th International ARC Salon Traveling Exhibition Opens at the MEAM (European Museum of Modern Art)
On Friday, September 22, 2017, ARC (Art Renewal Center) held the opening reception and award ceremony for their 12th Annual International Salon Exhibition at the MEAM (European Museum of Modern Art) in Barcelona, Spain.  It was held in conjunction with the presentation of the winners of the 8th Contest of Figurative Painting and Sculpture 2017 (Figurativas 2017) sponsored by the Fundació de les Arts i els Artistes.  These are the largest and most prestigious representational art competitions in North America and Europe respectively, and in this combined show they have assembled the latest work of some of the best representational artists from all over the world.
In this annual showcase for top contemporary representational art, 85 works were on display in the ARC Salon and 91 works were on display in Figurativas 2017 show. Â ARC reported that the entries to both competitions combined numbered over 5,500 works submitted by over 3,000 artists from over 90 countries. Â When I think of the high quality of these artworks teamed with the sheer number of entries, it is an additional honor to have been included in this remarkable assemblage of work.
As an exhibiting artist I was invited to attend the opening reception and awards ceremony.  I could not resist a trip to enchanting Barcelona to see my work in what would be my first European museum exhibition.  The reception was a well-attended and wonderfully successful event.  There were four speakers for the opening ceremony – Kara Lysandra Ross, ARC Chief Operating Officer and the ARC exhibition organizer; Tenaya Sims, Recipient of this year's Best in Show; Susan Tintori, Director of the Florence Academy of Art; and José Manuel Infiesta, MEAM Museum Director and Founder.  Awards were presented by Kara Lysandra Ross, and all exhibiting artists in attendance were called to the front for recognition, applause, and a group photo.
Having previously seen the majority of these works on display in the classic brownstone beauty of the grand Salmagundi Club on the first leg of the ARC Salon Traveling Exhibition, seeing them in the different context of the MEAM was interesting.  The rustic walls of the centuries-old building provided a striking juxtaposition to the polished works and made for a perfect backdrop to the show.  The setting and layout gave the paintings a chance to interact with each other and their environment differently – just as the personalities of people combine with one another for different outcomes, so did those of the paintings.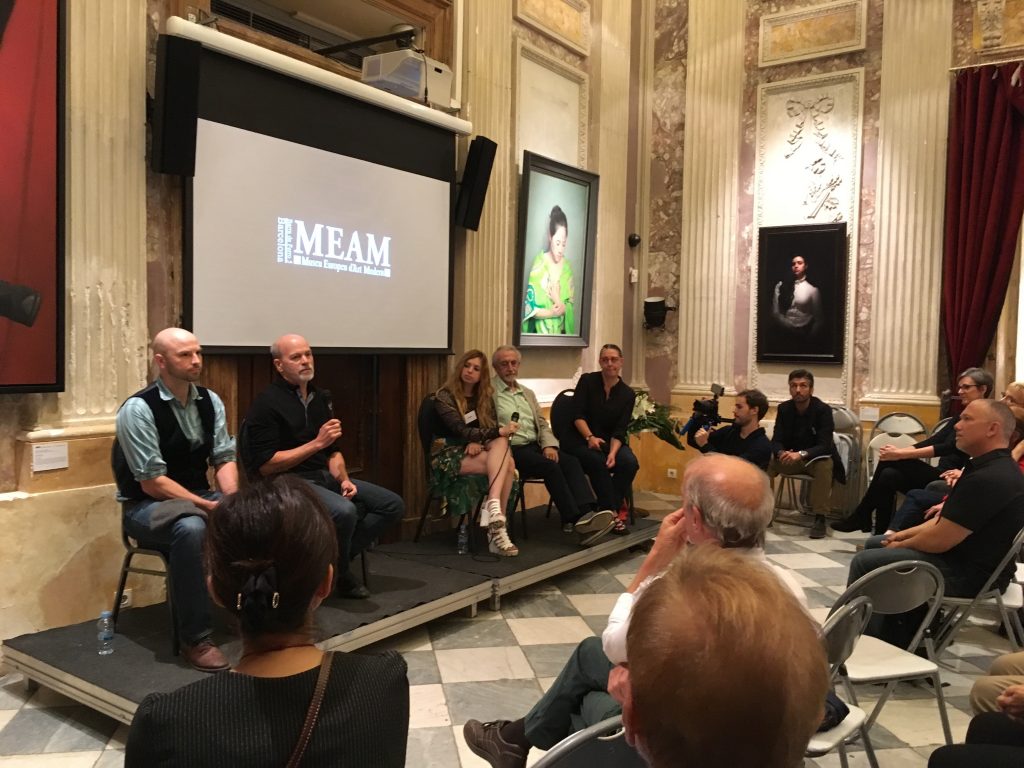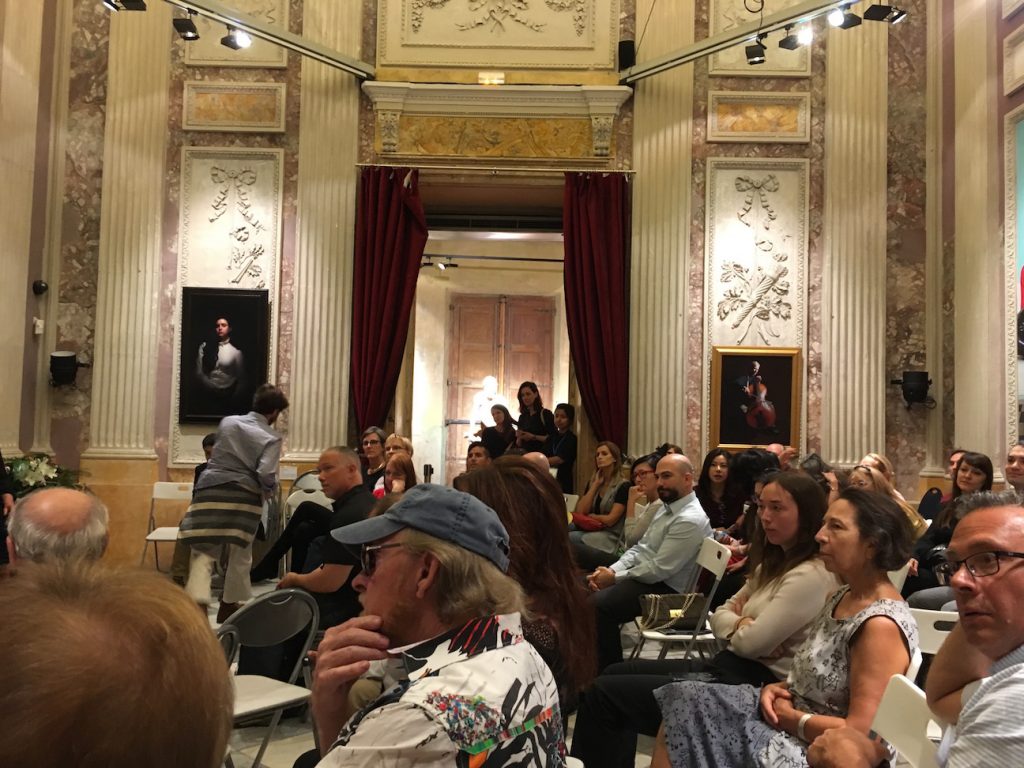 On Saturday, September 23, 2017, an additional event was held at the MEAM.  It included a screening of a short film with an overview of the judging process for Figurativas 2017;  a discussion with Tenaya Sims, Kara Lysandra Ross, José Manuel Infiesta, and Daniel Graves (Founder of the Florence Academy of Art) about representational art today;  and an Artist's Roundtable led by Kara Lysandra Ross where all artists in attendance could participate in a discussion of the challenges, concerns, and hopes of today's artists.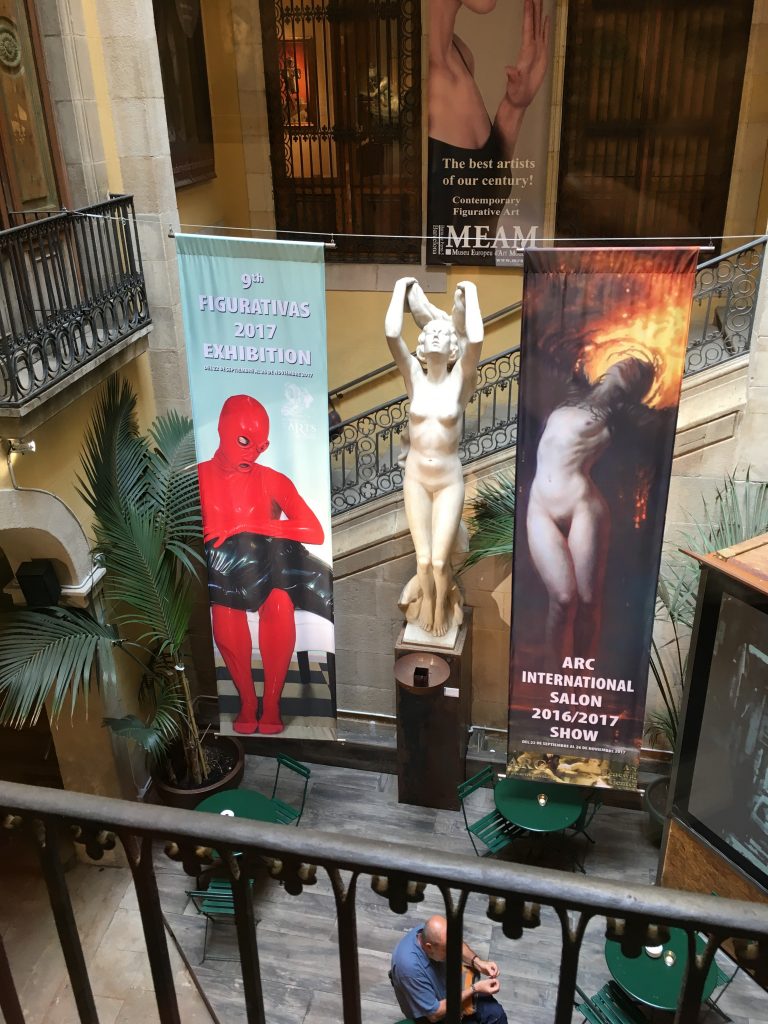 I feel it is really quite a thrill and an honor to be exhibiting in this incredibly prestigious salon and venue, and I am not alone in this feeling.  The sentiment was common, it seemed, among all the other exhibiting artists with whom I spoke.  Spending time with the artists whom I know was a pleasure, as was having the opportunity to meet more artists from both the ARC Salon & the outstanding Figurativas show.  I also enjoyed meeting the founder of the MEAM, José Manuel Infiesta.  He was a joy to speak with as he is a warm and engaging personality who is clearly passionate about promoting art and artists.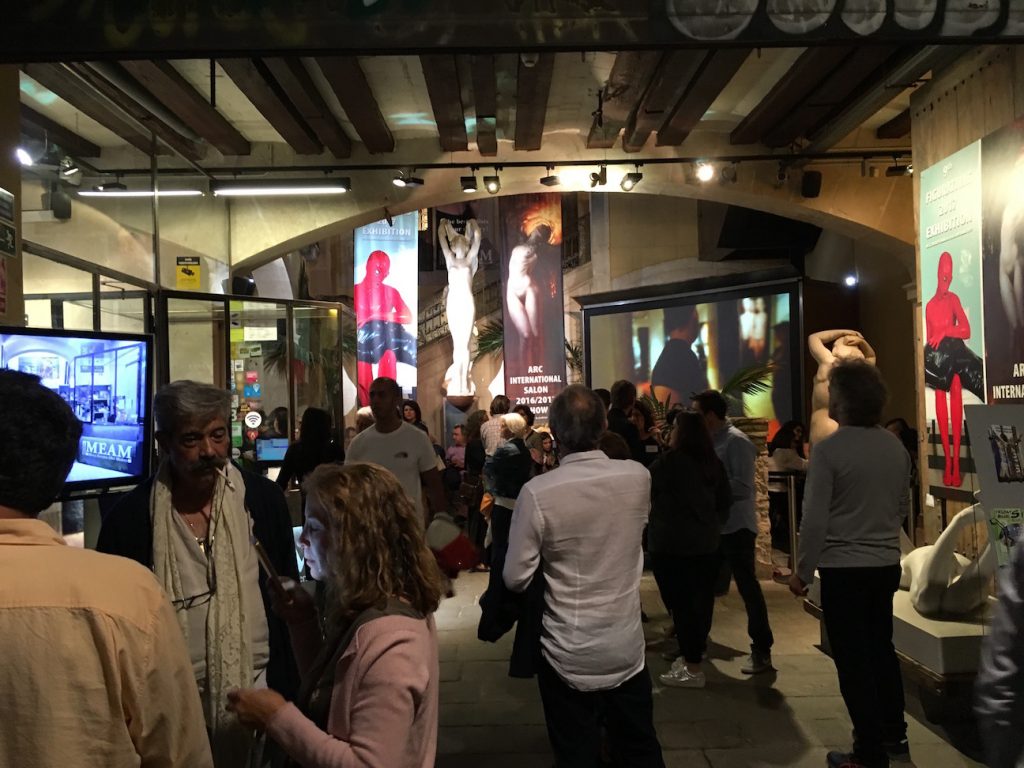 It is heartening that this resurgence in representational art is being fostered by those dedicated to reshaping the definition of modern art.  That "modern" can be representational and that artwork of classic beauty and skill is not only relevant, but steadily rising in the arena of contemporary interest.  Kudos to ARC and MEAM for joining forces with this amazing pairing of exhibits in their continuing efforts to support artists and advance representational art worldwide.
The 12th International ARC Salon Live Exhibition will remain on view through November 27th, 2017 at the European Museum of Modern Art (MEAM) in Barcelona, Spain and is the final leg of the traveling exhibition. For additional information about the show, please visit the ARC Salon website.
I have treasured this opportunity to show with world-class artists in outstanding venues and would recommend entering the ARC Salon to any representational artist.
Submissions are currently being accepted through November 15, 2017 for the 13th International ARC Salon – you may apply here:
Art Renewal Center
SaveSave