Painting the Mouth with Kristy Gordon
by Matthew Innis
|
The safety measures necessitated by the COVID-19 pandemic have made it difficult for everyone involved in providing and taking artist workshops. Over the past twelve-plus months, with various travel restrictions being set and strict limitations on in-person class sizes, the entire traditional workshop experience nearly disappeared. From those wanting to learn from their favorite instructors, to those teachers eager to share their knowledge, things looked bleak. But rather than allowing workshops to completely vanish, artists coped the best they could, by adapting to the new normal and moving more and more of their classes online. Though it's been a struggle, the bright side to all of this is that there are now more opportunities to study with great teachers than ever before. And even though life is slowly returning to "normal" and in-person training will certainly make its return, it's unlikely that these many online training choices are going to go away. So now, when a destination workshop is too far to travel to, too expensive, or just doesn't fit into a crowded calendar, there are many excellent online options that can be squeezed into anyone's schedule, fit most people's budgets, and can be taken from the comfort of one's own home. There couldn't be a more convenient way to learn or to challenge oneself by mastering new techniques or approaches.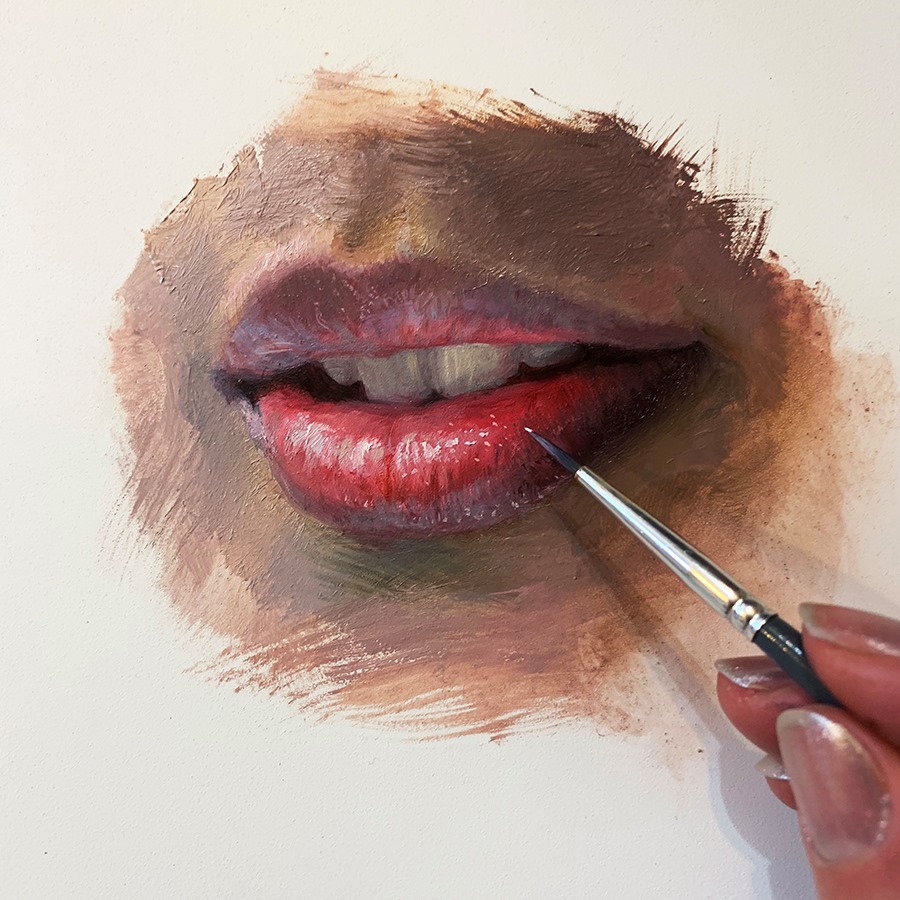 One of these great online opportunities is happening this weekend with a one-day workshop being offered through the New York Academy of Art, and fortunately, there is still time to register. In the specialized class, NYAA Adjunct Professor Kristy Gordon, a multi-award-winning artist (seriously . . . so many awards and honors, it was impossible to narrow it down) and former apprentice to Odd Nerdrum, will instruct her students on painting the mouth, with a focus on proper structure and color. Though students may work in any medium they desire, Gordon will present her demo in oils, and those who participate in the class will be provided with links so they can return to the video again and again to revisit Gordon's instruction. The class will run on Saturday, May 22nd, from 1:00pm to 7:00pm EST via Zoom, and the cost is $170 USD. Registration is available at the NYAA website.
As Sargent famously quipped, "A portrait is a painting with something wrong with the mouth." Now is the chance to learn how to make a mouth properly, and make sure no client can make the same observation about your portraits!
This one-day online workshop will guide students through the creation of a well-structured painting of the mouth with convincing colors. We will begin by discussing the construction of the mouth, to get accurate structure. Then we will move to color and concentrate on how to mix colors and finally how to add details like lip gloss and highlights. Participants can use any medium they like in this course. Kristy will be doing the demo in oils and will provide a suggested supplies list for those interested in using oils.  By the end of the course students will have a painting that they're proud of as well as a solid understanding of how to paint the mouth, which can be applied to all their future paintings! The class will include demonstrations, discussions and individual instruction and feedback. The beginner will learn fundamental principles such as how to mix colors and render form modeling. The more advanced student will discover how to take their work to the next level and achieve the finish that they desire. In addition to the live Zoom class each student will receive links to the downloadable videos of the painting demonstration so they can return to the course material whenever they like!

Location: New York Academy of Art via Zoom

Dates: May 22, 2021, from 1pm to 7pm Eastern (10am to 4pm Pacific)

*with a one hour break for lunch/dinner

$170 USD

For more class information, including news of additional upcoming workshops by Kristy Gordon, visit KristyGordon.com.